This article has recently been updated to reflect new information.
Everything from home appliances to city infrastructure is becoming connected. In 2019, the International Data Corporation (IDC) estimated that there will be 41.6 billion IoT-connected devices by 2025. Most devices connect through at least one RF communications protocol, and the IoT industry includes an extensive list of options when it comes to wireless connectivity.
Wireless applications are varied and demand an optimized approach. Each connectivity solution maximizes range and data rate while minimizing power consumption, but not every knob can be turned at once.
Given the broad range of applications and performance requirements, selecting the optimal protocol or set of protocols is one of the most important early decisions in the design process for any IoT device. The system engineer must consider the speed, reliability, security and scalability to determine the suitable protocol. However, the primary decision factors are range, data rate and energy consumption.

The following overview highlights the most popular protocols and when to apply them in a design.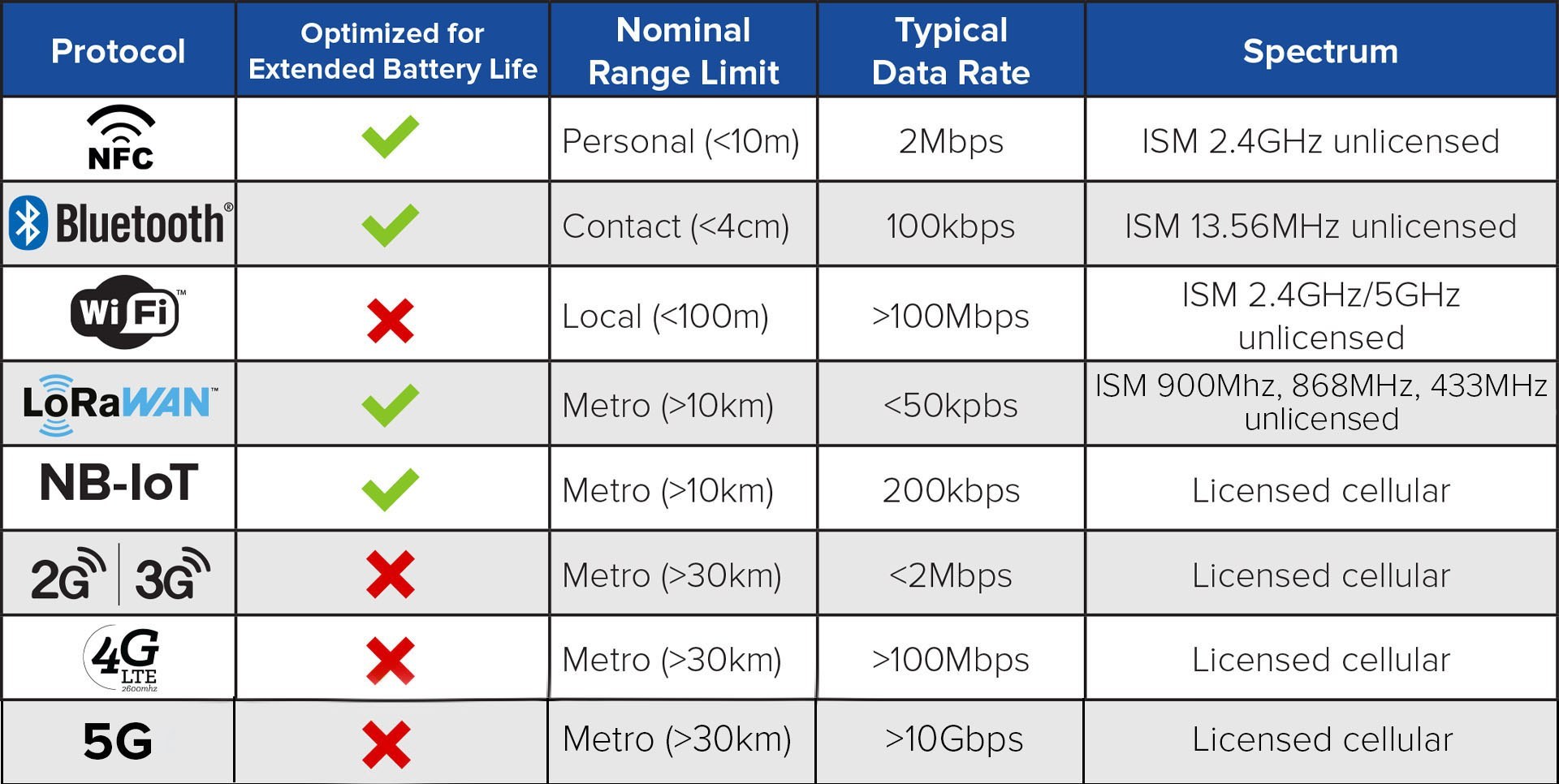 LAN/PAN

Short Range Networking and Device-to-Device Communication
Wi-Fi
Wi-Fi's expansion in range, data rate and market penetration has been impressive. It is the go-to option for wireless local area network (LAN) applications. Thus, Wi-Fi has become ubiquitous in connected devices such as smart phones, laptops, tablets, set-top boxes and routers. With the advent of the IoT, Wi-Fi has become the broadband wireless system of choice: Many video, surveillance, TV, phone/conference and AR/VR technologies have adopted this protocol thanks to the high data rate capability and useful range. Often tethered to wall power, Wi-Fi may not always support low enough power consumption for mobile applications.
Bluetooth and Bluetooth Low Energy (BLE)
The 2020 Bluetooth Special Interest Group (SIG) report projects 6.2 billion Bluetooth-enabled devices will ship annually by 2024. Bluetooth (BT) and Bluetooth Low Energy (BLE) are intended for use in personal area network (PAN) applications. Optimized for extremely long battery life through robust power-conserving methods, Bluetooth and BLE are excellent choices for devices requiring long operating life from small batteries. The long battery life comes at a cost: decreased communications range and data rates. Bluetooth is most commonly used for personal area connectivity in computer peripherals and headphones. Since all smartphones support this protocol, it is the go-to solution for short range connectivity to a smart phone or tablet, which can become the bridge to the cloud. BLE has even more power conservation than BT: It is ideal for supporting devices with sleep mode capability and less data requirements, such as health and fitness monitors. Do not use these protocols if you need lots of bandwidth for video or if you need to connect over long distances.
Near Field Communication (NFC)
NFC boasts security and eliminates the need for a battery in the linking devices. This unique protocol takes advantage of closely coupled fields to establish communication while also receiving power from the base device. The tradeoff is this method only works in extremely close-range links. We're talking about a centimeter. However, if the two communicating devices can be in contact, a secure and dedicated link is established. NFC is best used for close contact secure links like payment systems, safety monitoring and access control. An install base of hundreds of millions in mobile phones makes the protocol ideal for transferring data, like graphics, contacts lists and even video, to and from a phone. Abracon's new NFC solution, the 13.56 MHz AFAR3026-SN, has a very thin, low profile structure and provides easy design integration.

LPWAN

Long Range, Lower Data Rates, Extended Battery Life
LoRaWAN
A newcomer to the RF connectivity space, Low Power, Wide Area Network (LPWAN) protocols, such as LoRaWAN, emerged from the need to connect remotely located devices that had to survive on a battery without constant manual servicing for long periods of time. Spurred by the IoT, these protocols are optimized for very low data rates. Long range (LoRa) technology is advantageous in terms of battery life and cost. LoRa utilizes the unlicensed sub GHz bands (915/868/923/433 MHz), providing long range coverage despite its extremely low power operation. Using the unlicensed bandwidth allows low-cost operation. However, do not use LPWAN protocols for data-intensive applications, such as audio or video. The data rate cannot support that.
NB-IoT
This emerging LPWA technology is designed for narrowband IoT (NB-IoT) applications. NB-IoT has significantly higher power and cost requirements than LoRaWAN, but it brings increased range, immunity to interference, data reliability and data integrity. NB-IoT uses the licensed cellular spectrum, so involving the major wireless carriers may increase the operating cost per IoT node. However, using the potentially higher-cost licensed bandwidth allows NB-IoT to offer benefits in terms of latency and quality of service. As a system, NB-IoT is expected to provide better coverage, since the major carriers already offer ubiquitous wireless support across all regions of the globe. NB-IoT bands overlap with 3G and LTE and share common antenna solutions.
Cellular Networks
Long Range, High Data Rates, Not Ideal for extended Battery Life
2G/3G
2G and 3G are the workhorses of the machine-to-machine (M2M) applications that are already deployed in vending machines, parking meters and industrial monitors using cellular modems. Ubiquitous coverage, combined with the relatively low cost of established technology, offers a metro-wide connectivity solution. This protocol is easy to implement, as 2G/3G is supported by a broad range of hardware module solutions and existing software. Low interference in licensed bands offer reliability and data integrity. However, do not try sending video over this protocol. For that, you should upgrade to 4G and LTE.
4G/LTE
Even with 5G coming soon, 4G and LTE protocols remain the most popular for smart phones and other IoT devices that need bandwidth. Security systems, automobiles, surveillance and data networks can count on the reliability and availability provided by the licensed spectrum. However, cellular solutions, like 4G, tend to require high power usage since large amounts of data are transmitting over long distances.
5G
The fifth generation of mobile connectivity brings expanded communication between devices while providing advanced, reliable connectivity. This new generation of connectivity allows multiple devices to be connected simultaneously without compromising data transmission and connection. The 5G network offers fast data transmission that supports high power systems needing to deliver large amounts of data. 5G data rates reach up to 10 Gbps, which is a hundred times faster than the current 4G technology. The use cases are seemingly endless, as 5G provides benefits for healthcare, smart city, transportation, industrial automation, M2M and other large-scale data applications. Abracon recently launched the AEACAC198013-S5GNR, an external whip antenna that supports 5G applications.

About Abracon, LLC | Innovation For Tomorrow's Designs
Headquartered outside of Austin, Texas, Abracon is a trusted supplier of leading-edge and innovative electronic components including Frequency Control, Timing, Power, Magnetics, RF and Antenna solutions. Servicing world-class companies across the data communication, transportation, industrial, medical, consumer, aerospace, and defense industries, Abracon accelerates customers' time-to-market by providing unmatched product solutions, technical expertise, and service excellence.
Learn more at www.abracon.com